Reading Time:
2
minutes
This week saw the publication of the Phase 2/3 trial results of the experimental drug cocktail, AMX0035, developed by the pharmaceutical company, Amylyx, and carried out across multiple North American clinics. The paper was published in the New England Journal of Medicine.
The centaur of Greek mythology was a mix of man and horse, so the CENTAUR trial was appropriately named as it aimed to test a mix of two different drugs – sodium phenylbutyrate and taurursodiol – targeting two different cellular changes that have been linked with neurodegenerative diseases such as MND.
The trial recruited 137 participants with amyotrophic lateral sclerosis (the most common form of MND) with the main goals of assessing the overall safety of the treatment and the rate of change in disease progression, as measured by the revised ALS Functional Rating Scale (ALSFRS-R). The ALSFRS-R asks 12 questions related to functional activities of daily living against an overall score of 48 points.
Several other 'secondary endpoints' were measured, including changes in muscle strength, breathing, hospitalisation events, survival and biomarkers such as blood levels of a neurofilament protein which is associated with disease progression.
The trial participants recruited had a faster than usual speed of progression, in the hope that a positive change would be identified in the relatively short 24-week trial. They received either AMX0035 (89 participants) or placebo (48 participants) daily, with 105 of the 137 completing the trial period.
The results showed that the treatment was well tolerated, with no notable serious side effects. Most encouragingly, those on AMX0035 showed a statistically significant slower rate of functional decline than those given the placebo, as measured by the ALSFRS-R. Whilst both groups declined over the course of the trial, the AMX0035 group showed a loss of 1.24 points per month compared with 1.66 points per month for those on placebo.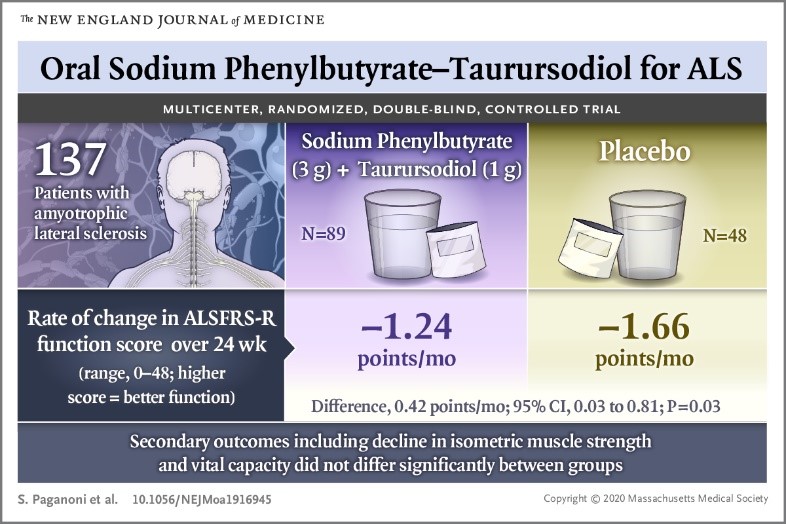 Frustratingly, these positive headline results were not accompanied by clarity on whether the treatment extends survival as the trial wasn't long enough to provide an answer. In addition, analysis of the other secondary endpoints (mentioned above) was inconclusive, though in some cases there were trends in the right direction. Nearly all of those who completed the trial have entered the follow up open-label extension study, which will give important information about the longer-term effects of AMX0035.
The lead investigators are due to present an update at the Virtual 31st International Symposium on ALS/MND in December this year which will hopefully provide more evidence on the 'real-world' benefits of AMX0035.
---
Reference to the paper: Paganoni, S., et al. (2020). Trial of Sodium Phenylbutyrate–Taurursodiol for Amyotrophic Lateral Sclerosis. New England Journal of Medicine, 383(10), pp.919–930.
More information on the CENTAUR trial can be found at:
https://www.amylyx.com/pipeline or https://www.clinicaltrials.gov (NCT03127514).